This week we would like to talk about something a little bit different, although still related to photography ;-). Here at VO, we are constantly trying to come up with new ideas to better serve our customers. Some of those ideas are good, some are not, some seem great in the beginning but in the end never leave our "drawing board". One of those awesome ideas, which we were working on for a while now, finally comes to a fruition. We consulted with some of our brides on this project and developed a product that will be a great addition to our services.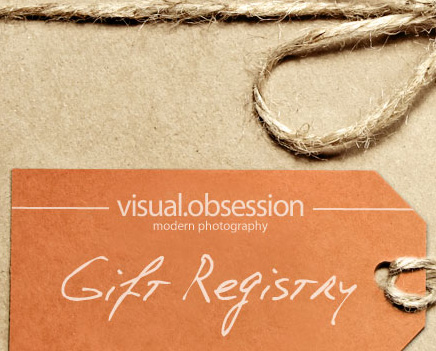 Today we're officially presenting Visual Obsession Photography Wedding Gift Registry. Our wedding gift registry allows family and friends to purchase vouchers, which the bride and groom can use towards their wedding photography, wedding album or any other product/service we offer. This is a great alternative to gift registries at the large department stores. Some couples don't need or want another toaster or another set of knives. The registry is a very convenient way to give the people you love a unique and special gift that will be cherished and remembered forever.
We found alternative gift registries difficult to use, so we maximized simplicity of ours. It all comes down to 3 easy steps:

It's that easy! And the best part? Our registry is available to our wedding couples at no additional charge. Yes that means free ;-).
To see our registry please visit www.voregistry.com
If you have any questions, comments or ideas on how we can further improve our registry, please contact us.
And now we're off to work on another project which we're planning to launch later on this year. We don't want to completely lift the veil of secrecy just yet, but this one is going to be big. We're reinventing our client photo galleries. We tested a multitude of 3rd party solutions, which in most cases suck, are difficult to use and most of the time they don't even serve their primary purpose – which is presenting photos – in a decent manner. We decided to change it. Make it simple, intuitive and actually useful. But more on that when we're done developing it ;-).